STEM Careers Booklet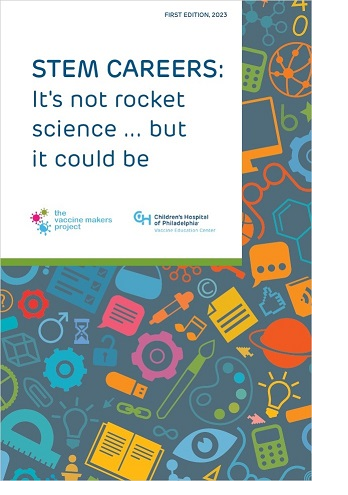 The array of career opportunities in fields related to science, technology, engineering and math (STEM) are sometimes overlooked and sometimes thought to be out of reach. The Vaccine Makers Project has created the booklet, "STEM CAREERS: It's not rocket science … but it could be," to demonstrate that these fields of study lend themselves to a vast assortment of career opportunities while also offering options for anyone. This webpage provides enhanced resources mentioned in our booklet for students.
Don't have the booklet?
Download a free copy today! 
Looking for info from the QR Codes in the booklet?

Check out the sections below.
STEM Career Conversations

Read interviews with dozens of people who work in the sciences on our  STEM Career Conversations page. Find individuals with a variety of backgrounds and occupations, and see what they have to say about their careers, how they got started, and what advice they have for students.
Science-related career listings

Check out the career listings of science–based employers to look at their current job openings and see the diversity of positions. Here are some examples of companies to get you started.  
Remember, these are just a few examples of the many types of employers and industries available. Think about other companies that you know of or create your own list and explore the STEM careers they may have. Also, if you find some companies of particular interest, check their listings every few months to see how they change over time.
Types of labs at CHOP

As described in the booklet, CHOP has three different types of labs. To find more details about each of these types of labs and the science being conducted at CHOP, check out these resources:
Other resources

Visit the "Additional STEM Career Resources" section of the website to find more resources to help you on your career journey.