February 23, 2023
Spotlight on: Choosing strains of virus for influenza vaccines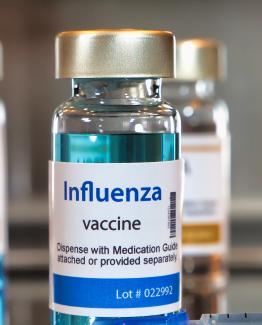 Unlike most vaccines, which seldom change, each year, the influenza viruses represented in the "flu" vaccine are considered for their ability to protect during the upcoming season. Often, one or more types are changed. This is necessary because flu viruses mutate so frequently that immunization or natural infection one year doesn't ensure protection against disease the following year. But how does this strain selection process work?  Read on to learn who makes the strain recommendations and how.  
The Global Influenza Surveillance and Response System (GISRS) is a World Health Organization (WHO) network comprised of influenza centers in over one hundred countries. Since 1952, GISRS has been monitoring influenza virus on a year-round basis.

Two times every year, the World Health Organization (WHO) reviews global flu surveillance, laboratory, and clinical studies data at the "Information Meeting on the Composition of Influenza Virus Vaccines." This meeting of experts generates a recommendation about vaccine composition in each hemisphere during the coming influenza season. Strain recommendations for the Northern Hemisphere are determined in February and for the Southern Hemisphere in September. 
After the WHO makes their recommendation, each country reviews their own influenza data and the WHO recommendations to make a final decision about which strains will be included in that year's influenza vaccines in their country.
In the U.S., the national review is completed at the FDA, where a group of outside experts, known as the Vaccines and Related Biological Products Advisory Committee (VRBPAC), evaluate the data and the WHO recommendations. The decision about which strains will be in the vaccine needs to be made well before the start of flu season, so that vaccine manufacturers have enough time to produce the quantity of vaccine needed to protect the country's population. Since the vaccine production process takes about 6 months, the FDA meetings typically occur in February or March. In 2023, the VRBAC committee meeting for influenza vaccine strain selection for the 2023-2024 influenza season is scheduled for March 7. Because these meetings are open to the public, you can listen to this process as it happens. Find out more using the VRBPAC meeting link in the Related resources section of this article. 
Some years, the strain selection process works better than others. Because the strains need to be chosen so far in advance of the season and the virus continues to change, there have been occasions when the virus changed significantly enough that the chosen strains were no longer as effective as it was anticipated they would be. To check out the variability in vaccine effectiveness, check the Related resources link for "CDC Seasonal Flu Vaccine Effectiveness Studies."
 
Related resources
Parents PACK Science Made Easy: Flu Strain Selection (video)
March 7, 2023 VRBPAC meeting page (includes link to live stream on YouTube)
The Global Influenza Surveillance and Response System (GISRS) (webpage)
Selecting Viruses for the Seasonal Influenza Vaccine (webpage)
CDC Seasonal Flu Vaccine Effectiveness Studies