October 16, 2017
Smithsonian Launches Antibody Initiative and Honors Dr. Hilleman's Legacy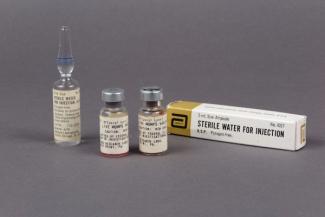 The Smithsonian's National Museum of American History new Antibody Initiative includes a new website that provides access to the museum's historical antibody-related collections. The collections include items donated by Hilleman's family and Merck & Co., and the site features several Vaccine Makers Project animations. View the Antibody Initiative website. The Antibody Initiative was made possible with generous support from Genentech, a member of the Roche Group, as part of their 40th Anniversary commemoration.  
The museum will continue ongoing unique experiences for its audiences over the next year. The first program in October 2017 centered on the work of Dr. Maurice Hilleman, who was responsible for the development of more than half of the childhood vaccines routinely recommended by the Centers for Disease Control and Prevention.
The program, "Hilleman's Vaccines: Remembering Why We Immunize," featured a screening of Hilleman–A Perilous Quest to Save the World's Children, directed by Donald Mitchell. A panel discussion moderated by NPR's Jon Hamilton followed the screening with Dr. Anthony S. Fauci, director, National Institute of Allergy and Infectious Disease, National Institutes of Health; Kristen Ehresmann, M.P.H., R.N., director, Infectious Disease Epidemiology, Prevention and Control Division, Minnesota Department of Health; Dr. Paul Offit, professor of pediatrics and director of the Vaccine Education Center, Children's Hospital of Philadelphia; and the museum's Chair of the Division of Medicine and Science Alexandra M. Lord, Ph.D.
 Dr. Hilleman's work is also highlighted in the Smithsonian.com article "You Should Thank Maurice Hilleman for Helping You Live Past the Age of 10".
Through incomparable collections, rigorous research and dynamic public outreach, the National Museum of American History explores the infinite richness and complexity of American history. It helps people understand the past in order to make sense of the present and shape a more humane future. Admission is free. For more information, visit http://americanhistory.si.edu.