May 22, 2020
Vax Facts Friday 5.22.20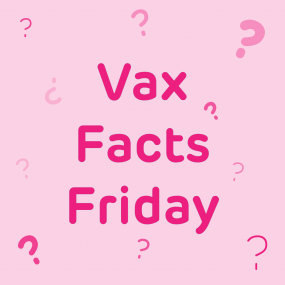 Q. What is the total number of immunological components received in the 14 childhood vaccines that are given today?
A. About 10
B. About 150
C. About 500
D. About 1,000
The correct answer is B. About 150
Children born in 1942 received four vaccines that contained more than 3,000 immunologic components. Improvements in lab techniques have allowed scientists to use only the parts of viruses and bacteria that are needed to generate immunity. Today, routinely recommended childhood vaccines contain only about 150 immunological components.
Visit Just the Vax to get more vaccine trivia questions.
Find us on Kahoot!

We post a new #VaxFactsFriday trivia question every Friday from September through June at 9:00 AM ET.

Find a link to the latest #VaxFactsFriday question on Facebook and Twitter each week, and visit VMP News & Events to see the question and answer.