May 13, 2022
Vax Facts Friday 5.13.22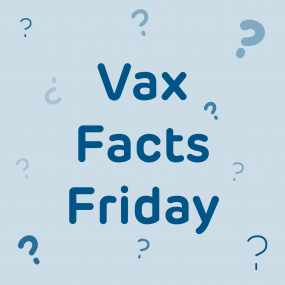 Q. What vaccine is given to girls to protect their future unborn babies?
A. Rubella vaccine
B. Measles vaccine
C. Varicella (chickenpox) vaccine
D. Hepatitis A vaccine
The correct answer is A. Rubella vaccine
Congenital rubella syndrome (CRS) can occur if a woman becomes infected with rubella before 20 weeks gestation. CRS can cause miscarriage, fetal death, premature delivery or other birth defects. Preventing CRS is the main reason the rubella vaccine is given to girls.
 
Visit Just the Vax to get more vaccine trivia questions.
Find us on Kahoot!

We post a new #VaxFactsFriday trivia question every Friday from September through June at 9:00 AM ET.

Find a link to the latest #VaxFactsFriday question on Facebook and Twitter each week, and visit VMP News & Events to see the question and answer.