April 12, 2019
Vax Facts Friday 4.12.19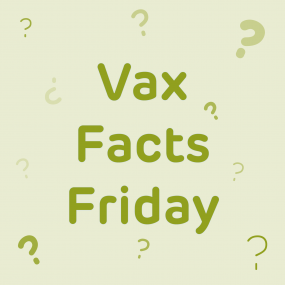 Please note there will be no Vax Facts Friday post next week, 4/19. 
The series will resume on 4/26. 
Q: What chemical compound is used during the manufacture of vaccines to inactivate viruses or bacterial toxins?
A. Water
B. Formaldehyde
C. Aluminum
D. Gelatin
The correct answer is B. Formaldehyde
Formaldehyde is used during vaccine manufacturing to inactivate viruses and bacterial toxins. Some concern surrounds the use of formaldehyde in vaccines because it is also used to preserve dead bodies. However, the amount of formaldehyde in vaccines is minimal because of purification processes used during the manufacturing process.
 
Visit Just the Vax to get more vaccine trivia questions.

We post a new #VaxFactsFriday trivia question every Friday from September through June at 12:00 PM ET.

Find a link to the latest #VaxFactsFriday question on Facebook and Twitter each week, and visit VMP News & Events to see the question and answer.