February 14, 2020
Vax Facts Friday 2.14.20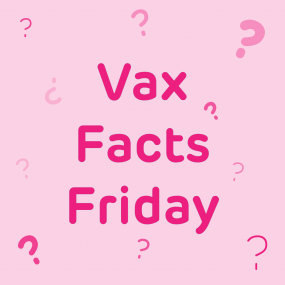 Q. It's #VaxFactsFriday! Which of the following is not typically a symptom of measles?
A. Vomiting
B. Rash
C. Pink eye (conjunctivitis)
D. Fever
The correct answer is A. Vomiting
A red, pinpoint rash beginning on face and spreading to rest of body, pink eye and fever are all common symptoms of measles. In fact, the distinctive rash is often the most telling sign of measles infection.
Visit Just the Vax to get more vaccine trivia questions.

We post a new #VaxFactsFriday trivia question every Friday from September through June at 9:00 AM ET.

Find a link to the latest #VaxFactsFriday question on Facebook and Twitter each week, and visit VMP News & Events to see the question and answer.