December 14, 2018
Vax Facts Friday 12.14.18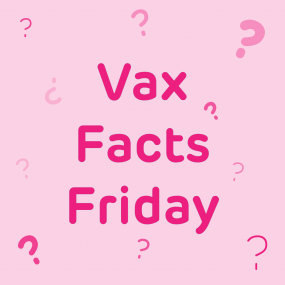 Q: How many months can it take for someone to overcome the symptoms of pertussis?
A. Less than 1 month
B. 1 to 2 months
C. 2 to 4 months
D. 4 to 6 months
The correct answer is D. 4 to 6 months
The cough from pertussis decreases in frequency over time, the effects of this infection can be felt for 4 to 6 months.
Visit Just the Vax to get more vaccine trivia questions.

We post a new #VaxFactsFriday trivia question every Friday from September through June at 12:00 PM ET.

Find a link to the latest #VaxFactsFriday question on Facebook and Twitter each week, and visit VMP News & Events to see the question and answer.